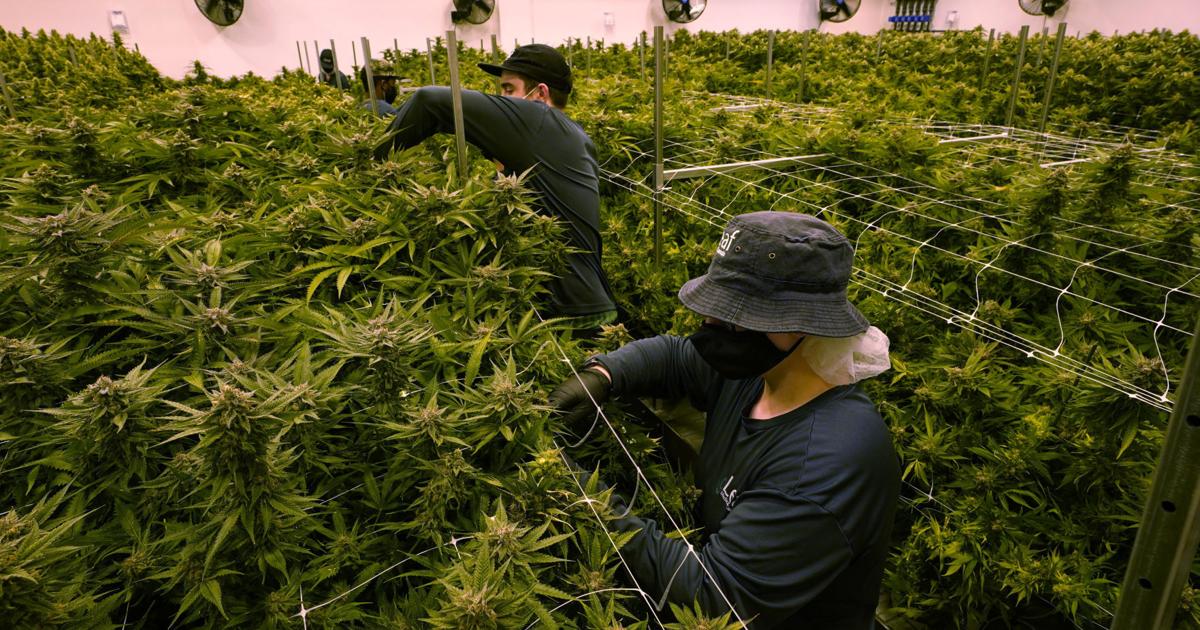 TUPELO • The Tupelo City Council is poised to make an 11th-hour decision on whether to opt out of medical cannabis cultivation and sales within city limits.
Although Tupelo officials adopted their guidelines for the legalized cultivation and sale of medicinal pot in early April, the agenda for their next meeting, set for Tuesday night, includes a request from Ward 3 Councilman Travis Beard to discuss "the matter of opting out of allowing the cultivation, processing, sale and/or distribution of medical cannabis and cannabis products."
Tuesday is also the state's deadline for municipalities to decide whether they will allow the cultivation and sale of medical marijuana.
Beard said he had gotten multiple calls from residents in his ward opposing medical cannabis in the city, which led him to decide to bring it to the council.
"I haven't had a single person contact me that was for medical marijuana," he said. "I had several calls that urged me to 'not let this happen' and people saying 'we don't need this in Tupelo.'"
Beard said there are too many uncertainties involved in the new industry, from not being sure there was medical benefit from cannabis to questions on what conditions qualify a person to get a subscription.
Though he said he was unsure his motion to opt out would get a second, noting he was "in the minority," Beard said he hoped for more discussion before the city moved forward with medical cannabis. He also noted that he believed there wouldn't be any hard feelings between the council if no second was given.
Ultimately, Beard said he wanted the decision to be up to the residents of Tupelo. If the council were to opt out, a residents could craft a petition and force a special election to opt back in.
"If people want to legalize (medical cannabis), I would like to see them vote on it," he said. "I don't feel comfortable making that decision for everyone when there is that option left on the table."
During the 2020 election, the voters passed a medical cannabis initiative by about 67% to establish the industry. It was later overturned by the state Supreme Court due to the state's antiqued petition process.
Council seems ready to move forward with medical marijuana
A majority of the Council told the Daily Journal that if the medical cannabis issue came to a vote, they would vote in favor of keeping the program.
Ward 5 Councilman Buddy Palmer said he was unsure if a motion to opt out of allowing either the growth or sale of medical marijuana would gain much traction.
"I don't know how the Council feels," he said. "(Beard) will make the motion, but I don't know if he will get a second."
Palmer said he opposes opting out.
"I believe in medical marijuana," he said. "I am for anything that can help people with illness and pain. Not one person called me to say not to vote for it."
Ward 7 Councilwoman Rosie Jones said she was in favor of medical cannabis, calling it a "great opportunity for the city to grow."
"I definitely am voting for (cannabis)," she said. "I am a home health care worker, and a lot of my clients take a lot of medicines. I think medical marijuana will reduce the need for pain medication tremendously."
Ward 4 Councilwoman Nettie Davis also said she was in favor of medical cannabis. She also said the city had multiple discussions on the topic and she was confident it would benefit the city.
"If we don't get it, people will get (medical cannabis) from other areas," she said. "Tupelo is usually the leader in taking advantage of new opportunities."
Ward 6 Councilwoman Janet Gaston said because medical cannabis would be heavily regulated and help treat illnesses, she would vote against opting out.
"As long as it is monitored the way it is supposed to be and is done the way it was presented to me, the benefits outweigh any negatives," she said.
Ward 1 Councilman Chad Mims said he too will vote in favor of allowing medical cannabis growth and sales, although he added that he looks forward to Tuesday night's discussion of the issue.
"Based upon the information we were presented, I am supportive of medical marijuana," he said. "Is there a perfect scenario where we have potential problems? Probably. But nothing is perfect. That is not to say I couldn't have my mind changed, but that is the way I am leaning."
Ward 2 Councilman Lynn Bryan did not respond to attempts to reach him.
The guidelines adopted by the council on April 5 largely follow the rules outlined by the state. The ordinance, which passed unanimously, details where medicinal pot growers and sellers can locate, how large their facilities may be, and sets permitting and licensing regulations.